MARMADUKE
ARKANSAS
A nice place to live,work, and play.
This site dedicated to the memory of
Doyne Rasberry
INDUSTRIES*CITYHALL* PARKS*EDUCATION*AGRICULTURE*ORGANIZATION
QUALITY OF LIFE;
*Marmaduke,Ark is located in Northeast Arkansas and has a population of 1200.. It is in an agriculture area with Crowley's Ridge to the West with many small farms...to the East is the St Francis River Bottom and many larger farms...the Adult population works agriculture occupations, in factories and small businesses.
CLIMATE
*Average January temperature of 37 degrees..July with 80 degrees and an annual rainfall of 45 inches.
LOCATION TO LARGER CITIES
*Memphis Tenn. Is 90 miles South-Southeast
* Little Rock AR is 165 miles South-Southwest
* St Louis Mo. is 225 Miles North
* Located in the extreme Northeastern section of the State within 8 miles of the Missouri "Bootheel". Marmaduke is the second largest City in Greene County...Paragould, the County Seat is located 11 miles South.
* Located on the Union Pacific Railroad main line which affords excellent shipping facilities. Arkansas Highway and US Highway North-South Corridor serve the City with other Highways crossing the County.
AIR ACCESS IS PROVIDED BY
* Piggott Airport
* Corning Airport
* Rector Airport
* Paragould Airport
* Jonesboro Airport and site of FAA flight Service Center
RIVER ACCESS
* St Francis River is 6 miles East
* Port of Osceola is 60 miles East
* Port of Memphis is 90 miles to the South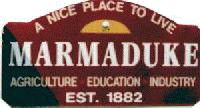 It is not our intent to use any copy writed material in this presentation
if any is found, please advise and it will be removed forthwith.
Webmaster
This page maintained by Doyne Rasberry and Art Reese
THANKS
Tripod