Library dedicated to Mrs. Mary Thorne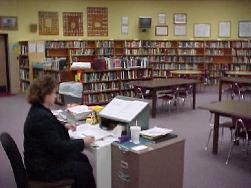 Librarian Sherma Dicus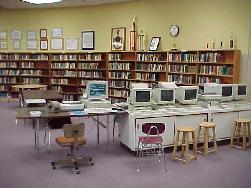 Computerized Library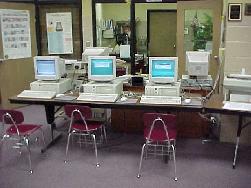 Keeping records on computer
The Marmaduke High School Library can be traced back to the year 1930 when the first graduating class was recorded Individual classroom collections were a part of the first Library.
In July of 1949 Mrs. Opal Hoggard, an early librarian,began the task of assigning numbers to and recording names of the individual books in the collection,which consisted of 360 books that year.Her accession record remains a part of our present library, which has grown to9500 books including both hardbound and paperbacks.
During the 1990's our library became known as the library media center as we added computers to our book collection. Ten computers are now available for students use and one is assigned for recording keeping of the Librarian. These computers provide access to an electronic card catalog,as well as, various software programs on CD-Roms,online magazines,and the vast resources via the internet.
The present Library collection is housed in a huge completely round room with a seating capacity of 55. Separate from this room are office and workroom areas.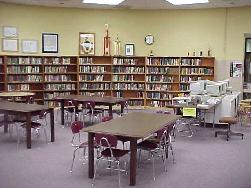 A part of the 9000 Book Library