AC5ZD
David Owens

David S. Owens, KC5UUC,
is the 1999 President of the Greene County Amateur Radio Club.
He hopes to utilize his new position to enhance the quality of the club and welcomes
any suggestions for improvements from all club members.
David brings much enthusiasm, dedication, and vision for the future
to the GCARC.
Nashville, TN July 1998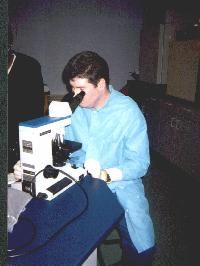 David S Owens, MT (ASCP)
DAVID S. OWENS, KC5UUC, first obtained his Technician Class license in June 1996, then upgraded to Technician Plus in September 1996.
Having recently graduated from Arkansas State University with a Bachelor's Degree in Medical Technology, David hopes to someday pursue a degree in medicine.
David recently became certified by the American Society of Clinical Pathologists as a Medical Technologist.
He enjoys DX-ing on 10-meters as well as local 2-meter operation and calls the Greene County Amateur Radio Net the first Tuesday of the month.
Some of David's other interests include shortwave radio, computers, baseball, politics, and writing/recording his own original music.
In his own words, "It is indeed an honor and a privelage to be a member of the GCARC and to have served as its Vice-President in 1997. I am proud to be part of such a great organization and promise to do my very best to be a key factor in the support and advancement of Amateur Radio in this area. I enjoy amateur radio and have met many wonderful people and made some very good friends because of it."
E Mail DAVID
Steve Hackett's Website (One of my favorite guitarists).
Senator Ernest "Fritz" Hollings' Website
Chicago Museum of Contemporary Art
British Broadcasting Company (BBC) World Radio Website